Back in April we sent a note highlighting a turn to algo usage as realised volatility peaked. Even though this seemed counterintuitive to some, we found, due to the increased spot volumes, the speed of fill for our NWM Peg Clipper algo increased by a factor of between 2 and 3 which in turn reduced the impact of higher realised volatility by this same factor. The increase in algo volumes across the market has enabled us to gather much more data on the adaptive mode for the Peg Clipper algo that we would like to share.
How does the NWM Peg Clipper work?
Execute an order by placing successive clips into our NWM Client Order Matching System (COMS). It allows a child order from an algo to become part of our market making price, which is then shown to our large client franchise. If a client crosses the spread, the algo order takes precedence and is filled first. Users can peg to the reference bid/mid/offer and add an optional offset to fine tune the order level.
How does the adaptive pegging work?
The adaptive mode starts from the passive position, but allows the offset to vary up to +/- ¼ bid-offer spread in response to a short-term momentum model. The aim is to reduce 'adverse selection', therefore if spot is moving against the user (higher if buying) the model moves the pegging to be more aggressive, and if spot is going in the users favour it becomes more passive.
Adaptive Peg Diagram
Source: NatWest Markets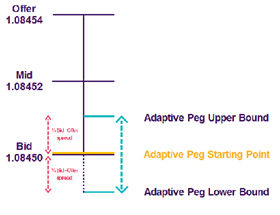 What does the data look like?
The below table shows the last 2 years of data for NWM's Peg Clipper algos run in adaptive mode. Here we are looking at the Top 5 currency pairs by volume. The benchmark here is the average fill vs the inception mid, sometimes called 'implementation shortfall'. This shows that through running a Peg Clipper in adaptive mode you would expect to end up with an overall fill similar to the inception mid. Interestingly the algo performance in adaptive mode marginally outperforms passive mode.
Peg Clipper Algo Performance in Adaptive Mode
Source: NatWest Markets
| | |
| --- | --- |
| Currency Pair | Average fill vs. Inception Mid (bp) |
| EURUSD | -0.01 |
| GBPUSD | -0.15 |
| USDJPY | -0.12 |
| USDCAD | 0.45 |
| EURGBP | 0.00 |
If you would like more information on NWM Algos please call your usual salesperson or email us.

Please click here to find all of NatWest Markets' Strategy and Sales commentary/ideas.
You can also find out more about our electronic offering and credentials for Rates here and for FX here.

---
This is Non-Independent Research, as defined by the Financial Conduct Authority. Not intended for Retail Client distribution. This material should be regarded as a marketing communication and may have been produced in conjunction with the NatWest Markets Plc trading desks that trade as principal in the instruments mentioned herein. All data is accurate as of the report date, unless otherwise specified.
This communication has been prepared by NatWest Markets Plc, and should be regarded as a Marketing Communication, for which the relevant competent authority is the UK Financial Conduct Authority.
Please follow the link for the following information https://www.natwestmarkets.com/natwest-markets/regulation/mar-disclosures.html
MAR Disclaimer

Conflicts of Interest statement

Glossary of definitions

Historic Trade ideas log
Where communicated in Singapore, this communication may be deemed an advertisement. This advertisement has not been reviewed by the Monetary Authority of Singapore.

---
Note that the text above is subject to the disclaimer(s) accessible if you
Click Here