With all the talk on fallbacks, pre-cessation triggers and term rates you might think we were approaching the end game for LIBOR. But is the industry clear how LIBOR will be dealt its knockout blow, or how it will stagger on?

Below we discuss the key sticking points, and suggest some possible solutions.

When will LIBOR end? Sometime after 31 Dec 2021, but nobody knows when. There are many factors - number of panel banks, ICE reduced submissions policy, published LIBOR screen rate and pre-cessation triggers.

What will LIBOR fall back to? Lots of focus on the ISDA consultation closing on 23 Oct, but will the protocol give certainty across all counterparties and all asset classes? SONIA term user group is busy, but is their focus on 'tough legacy' contracts or LIBOR 2.0 for the many not the few?
We've covered some of this ground before (Back to the Future; Itchy trigger finger on LIBOR transition; How good is your insurance?; Ringing the bell for the end of term) but with ISDA feedback from pre-cessation and fallback consultations, the recent focus from term user group and multiple vendors vying to construct SONIA term, we felt the time was right to bring some thoughts together.

Triggering the end

After the 31 Dec 2021 the regulator will no longer compel panel banks to submit to LIBOR. Once these submissions fall away the administrator (currently ICE) will not be able to publish a representative rate - and all those contracts that reference the LIBOR01 page have a problem.

As banks pull out of the panel it becomes harder for those who remain to stay in as their contribution more directly impacts the fixing. This could still take a while to feed through, but it seems a struggle to imagine after all the time, effort and political capital that has been expended, that LIBOR as we currently know it will continue long term. The RFR transition naysayers are definitely in the minority these days.
Currently LIBOR ending requires us hitting ICE's Reduced Submissions Policy, taking the previous day's LIBOR until they decide 'it would be appropriate' to track the equivalent term SONIA rate – locking in the spot basis at that time. How long they'd do this for isn't clear, but it's hard to imagine they'd want to do so for long without being compelled to.

But only when they stop publishing a LIBOR rate and nothing appears on the LIBOR01 page would we fall back. And when we say 'we fall back', we mean ISDA derivatives with the proposed 2006 amendments selected fall back. Other LIBOR referencing products may or may not fall back, depending on the language (or lack of) in the individual documents.
Jump the gun with pre-cessation

Understandably the FSB is not comfortable with this sequence of events as the rate will be of dubious quality long before we get to the point that it has ceased. Questions around it's 'representativeness' are doubtlessly a can of worms they'd rather not open – or at least have some control over.

To address this the FSB has proposed Pre-cessation triggers and asked ISDA to get feedback. Whenever a bank drops out of the submitting pool, the regulator gets to decide whether they pull the trigger or not. More on the ISDA consultation and the (mixed) market response below.

To clarify, and we have been asked this a few times, we do not see pre-cessation triggers being pulled before the end of 2021, as panel banks are committed to continue submitting until then.

See diagram below for conditions under which LIBOR might continue or end: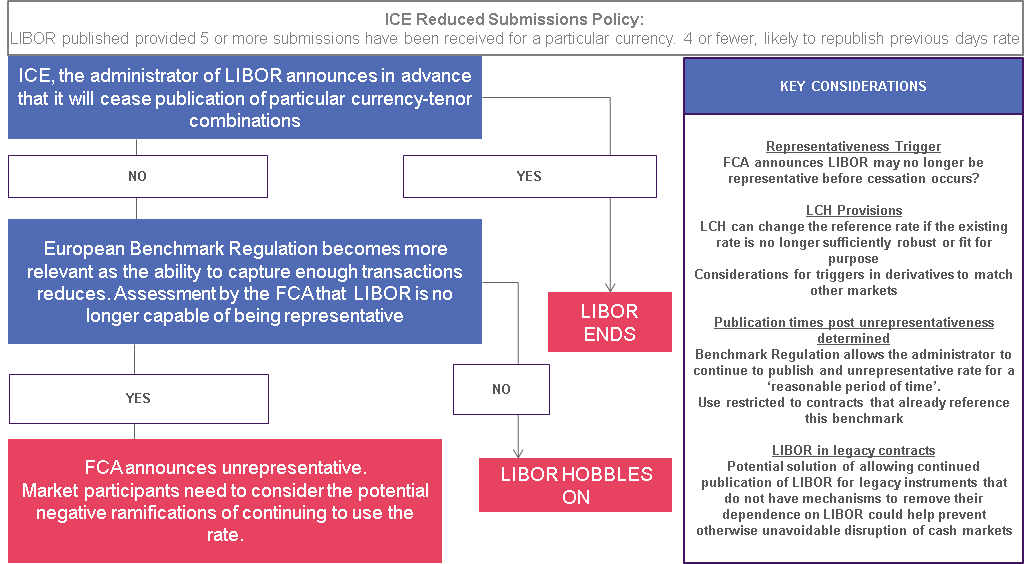 And how has the market responded to pre-cessation?

The ISDA Consultation Paper preliminary results showed the market split around pre-cessation triggers, and with good reason. Pre-cessation triggers sound sensible, but we still feel that the unintended consequences of adding them outweigh the benefit – and a better solution needs to be found.

The key problem, and it's the same problem that we've had throughout the discussion, is that not all LIBOR instruments have a practical means of adding fall back or pre-cessation language. So adding this to only a subset of LIBOR contracts fragments LIBOR – suddenly 3m LIBOR on one instrument is not the same as 3m LIBOR on another, and that 'flat' LIBOR portfolio you're running suddenly isn't flat.

The fear of this will hold people who have derivatives hedging other LIBOR instruments like bonds from signing up to these amendments – and it's hard to argue with them trying to preserve the consistency of their LIBOR exposures. But this will not be helpful for creating a smooth transition or maintaining a functioning a liquid market.

Suddenly a price in 10yr swap has to be qualified as:

10yrs without fallback
10yrs with fallback and pre-cessation triggers
10yrs with fallback but without pre-cessation triggers
Intuitively this doesn't feel like a recipe for an efficient, liquid market – with new basis introduced everywhere, transaction costs are surely going to increase significantly.
What to do with 'tough legacy' contracts

The key to a stable and smooth transition is maintaining consistency in LIBOR across all products (as far as possible) such that people are comfortable that in transitioning part of their portfolio, or adding fallbacks where they can, they won't be disadvantaged at a later date.

It has always seemed to us that there is one ultimate fallback for 'tough legacy' instruments (eg old LIBOR bonds and other contracts with no fall back language). That is the LIBOR01 screen, currently controlled by ICE as LIBOR administrator. Clearly this isn't a solution for the wider market where SONIA works well, but a term rate only for 'tough legacy' makes sense.
ISDA's fallback – applying a historically observed spread onto a realised SONIA rate - is in the final stages with the long awaited consultation on the finer details due to close on 23 Oct, and results presumably published around a month later. As this relies on the realised SONIA rate, it only generates a rate for the end of the term – which doesn't help these contracts referencing LIBOR01 at the start of the period.

The 'need' for term?

Which brings us neatly onto the 'need' for a projected SONIA reference rate – or term rate. Observing the market's projection of SONIA pricing and applying ISDA's spread to it, would make a consistent fallback rate for tough legacy. Not perfect as those who have hedged these products with ISDA derivatives are left with the basis between Projected Sonia and Realised Sonia – but it's likely as good as we'll get – and at least they'll have functional hedges.

This is the main driver for needing them, but with the various working groups and tasks forces – and vocal industry bodies – we think this may have got lost in the noise. Sure there are lots of people who want Term as an easier solution to changing processes / thinking / systems to use compounded overnight rates – but 'want' is not the same as 'need'.
The tone around these term rates is slowly changing, with SONIA bonds becoming common place (ABP) and finally SONIA loans being written (National Express). Two key areas where people thought they were 'needed' have now demonstrated that they can evolve and embrace compounded realised rates. The LMA, who for a long time insisted that Term was essential for loans, has published template loan terms using compounded rates. The Term Rate Working Group is now a Term User Group Task-force - this change in focus surely needs to be messaged widely so people sitting on the fence can be clear: waiting for a term rate solution isn't an option.
Naturally industry solutions help the market understand how backward looking rates work - for example see the RFR calculator at RealisedRate.com

The risk of LIBOR 2.0

If term rates are used for anything other than enabling problem legacy contracts to roll off – then we're in danger of creating LIBOR 2.0 – and that can't have been lost on the regulators and boards of banks who are keen to put the conduct risks of the past firmly behind them.

Allowing a market in Term RFR derivatives to be established – with these derivatives referencing fixings that are based off the prices that those same banks are providing – is far from ideal. There are some out there who don't see it this way, prompting signals from regulators such as the recent statement by FCA's Edwin Schooling Latter.

So far we've heard talk of a number of different 'wannabe' term rate providers, all with their own methodologies. In our view the world only needs one set of reference term rates, but in this fair and open commercial world the regulators can't pick a winner.
So what should happen?

It strikes us that there is a clear opportunity here for one provider to create a useful rate. The administrator of LIBOR (currently ICE) should create a term rate and make it the driver of the LIBOR01 page when their Reduced Submissions Policy kicks in. It would provide sensible alignment for tough legacy and at the same time establish a projected SONIA reference rate for contracts with robust fallbacks.

Yes they've lost LIBOR (and most disappointingly for them, LIBOR futures) but at least they would have ensured they are still key to the game. Doubtlessly other Term rates would then be short lived – nobody's going to want the administrative burden of providing a rate that no one really cares about. Banks and advisors will be nervous of multiple different term rates being out there – fearful of the accusations along the lines of you used 'TermRateProvider3' but if I'd used 'TermRateProvider5' I'd be better off.
If ICE (or whoever is the administrator of LIBOR) is unwilling to undertake this role, then Bank of England is already the administrator of SONIA, and could step in at the point that ICE were unwilling to publish a non-representative rate.

Change the submissions policy

Other tweaks to the Reduced Submissions Policy would be helpful. If the bar to the policy being triggered was raised from '4 or fewer' submitters to '8 or fewer', it would kick in at a point that most likely the regulator would be itching to pull their pre-cessation trigger anyway. Remember that with 8 submitters we're only sampling 4 rates (see our reduced submitter scenarios here). It would remove the need for the pre-cessation trigger altogether and maintain the alignment of LIBOR between different products.

Tough legacy and derivatives would at least consistently become a function of SONIA simultaneously rather than risking different fallbacks being triggered at different times. Once these instruments have become a function of SONIA it'll be much easier to start the repapering process of this back book and go forward business will have moved to SONIA.
A tweak to the ISDA fallback should be added such that their fallback is triggered at the same point to the reduced submission policy.

While we've been making these points all year, it feels that with developments around fallbacks, triggers and term rates all starting to come together it's worth reminding ourselves what good really looks like for the many, not just the few.

RFR has LIBOR on the ropes, but will it keep coming back like Rocky?

Phil Lloyd, NWM Sales
Dave Halstead, NWM Trading

Please click here to find all of NatWest Markets' Strategy and Sales commentary/ideas.

You can also find out more about our Rates electronic offering and credentials here
---
This is Non-Independent Research, as defined by the Financial Conduct Authority. This material should be regarded as a marketing communication and may have been produced in conjunction with the NatWest Markets Plc trading desks that trade as principal in the instruments mentioned herein. All data is accurate as of the report date, unless otherwise specified.
This communication has been prepared by NatWest Markets Plc, and should be regarded as a Marketing Communication, for which the relevant competent authority is the UK Financial Conduct Authority. Please follow the link for the following information https://www.natwestmarkets.com/natwest-markets/regulation/mar-disclosures.html
Where communicated in Singapore, this communication may be deemed an advertisement. This advertisement has not been reviewed by the Monetary Authority of Singapore.

Conflicts of Interest statement