Have you considered adding NatWest Markets to your eFX panel?
We have a strong track record of high quality pricing, and a sophisticated Algo suite. This, along with our Rates credentials (see here), means we are a key partner for anyone wishing to trade Fixed Income and Currencies products electronically.
eFX Spot:
#1 Bank for streaming spot in EURUSD and EURGBP in EMEA (by volume, Q3, Bloomberg)
Top 3 Bank for streaming spot in GBP pairs in EMEA (by volume, Q3, Bloomberg)
Top 5 Bank for overall streaming spot in EMEA; including #1 in all pairs for Corporates, #2 for Real Money and #4 for Hedge Funds (by volume, Q3, Bloomberg)
In EM, we are focussing on growing our presence with improvements in pricing, and are now #1 Bank for USDZAR streaming spot in EMEA (by volume, Q3, Bloomberg)
eFX Swaps:
Top 3 Bank for swaps in all pairs for Real Money clients in EMEA (by volume, Q3, Bloomberg)
Top 10 Bank for swaps in all pairs globally (by volume, Q3 Bloomberg and October FXAll)
eFX Options:
Top 2 Bank for options globally on Bloomberg, Fenics & Digital Vega (by volume, Q3)
Algos:
We have seen considerable growth this year in client algo volumes, with increased interest and activity from Corporate, Real Money, Hedge Fund and Bank clients. In October 2019, we were ranked #1 in North America and Top 3 Globally for Algos by volume on Bloomberg.
We continue to develop close working relationships with our clients, and are at the forefront of becoming technology providers to our clients, not just market makers. One of the improvements we have made is the curation of our NWM COMS liquidity pool (Client Order Matching System). We now offer clients the ability to choose a subset of our client base to trade their algos against, based on their overall market impact appetite. Please see this article for further details.
If you have any thoughts, questions or ideas about our eFX product offering, we would love for you to get in touch by contacting efxsales@natwestmarkets.com.
NWM EURUSD Streaming Spot QoQ Rank and Share - Bloomberg
Source: NatWest Markets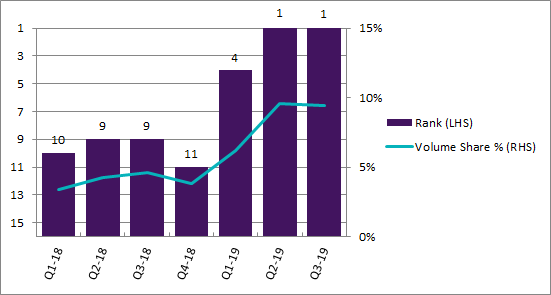 ---
Ravin Amin
Currencies Sales, EMEA | NatWest Markets | 250 Bishopsgate | London | EC2M 4AA

www.natwestmarkets.com
Please click here to find all of NatWest Markets' Strategy and Sales commentary/ideas.
You can also find out more about our Rates electronic offering and credentials here
---
This is Non-Independent Research, as defined by the Financial Conduct Authority. Not intended for Retail Client distribution. This material should be regarded as a marketing communication and may have been produced in conjunction with the NatWest Markets Plc trading desks that trade as principal in the instruments mentioned herein. All data is accurate as of the report date, unless otherwise specified.
This communication has been prepared by NatWest Markets Plc, and should be regarded as a Marketing Communication, for which the relevant competent authority is the UK Financial Conduct Authority.
Please follow the link for the following information https://www.natwestmarkets.com/natwest-markets/regulation/mar-disclosures.html
Where communicated in Singapore, this communication may be deemed an advertisement. This advertisement has not been reviewed by the Monetary Authority of Singapore.
MAR Disclaimer

Conflicts of Interest statement

Glossary of definitions

Historic Trade ideas log
---
Note that the text above is subject to the disclaimer(s) accessible if you
Click Here