The NWM Gamma Hedger can save you time and enable you to capture quick market moves more effectively in these volatile markets.
Produced by Lucy Emptage and John Quayle on 11 March 2020

The NWM Gamma Hedger gives you the ability to automate your FXO spot risk management. You can set up strategies in a matter of minutes, and it can give you the opportunity to focus on trading volatility and identifying where the value is in the options market, instead of spending time trading spot manually.
You can choose from a range of strategies to suit your core view, from simple delta 'threshold' triggers, which flatten once a certain delta is reached, to those that are designed to 'let winning positions run' and will out-perform on a trend or large directional move (adaptive versions). These strategies are more sophisticated than typical looping orders and are designed to help you achieve your individual goals based on your specific options profile.

Even if you like trading your gamma manually, you might find the Gamma Hedger useful when you can't be at your desk, for example overnight.

According to NWM Co-Head of FX Options Trading, Mark Haslam "As a major market-maker in FXO, we use the Gamma Hedger extensively across multiple portfolios to manage our spot positions. This ability to automate risk management of FXO positions increases the efficiency of our desk."
The NWM Gamma Hedger is a sophisticated and highly flexible tool which suits many of our clients, especially as volatility picks up and if desk coverage is short. If you would like more information, please contact your usual salesperson or the eFX Sales team here.
Adaptive Gamma Hedger performance, EURUSD example, Monday night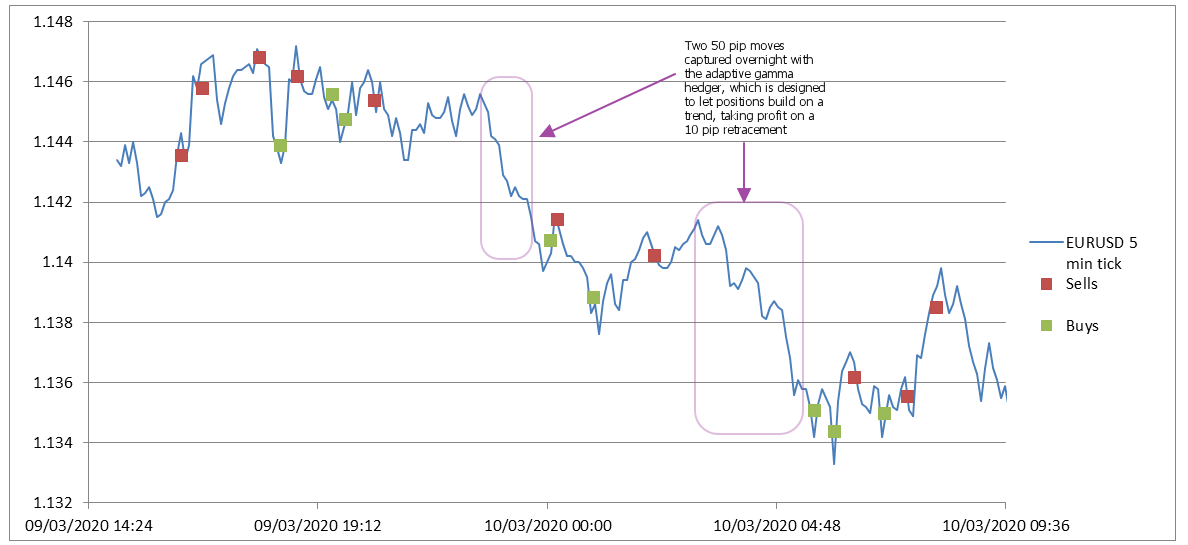 Source: NatWest Markets
Please click here to find all of NatWest Markets' Strategy and Sales commentary/ideas.
You can also find out more about our electronic offering and credentials for Rates here and for FX here.

---
This is Non-Independent Research, as defined by the Financial Conduct Authority. Not intended for Retail Client distribution. This material should be regarded as a marketing communication and may have been produced in conjunction with the NatWest Markets Plc trading desks that trade as principal in the instruments mentioned herein. All data is accurate as of the report date, unless otherwise specified.
This communication has been prepared by NatWest Markets Plc, and should be regarded as a Marketing Communication, for which the relevant competent authority is the UK Financial Conduct Authority.
Please follow the link for the following information https://www.natwestmarkets.com/natwest-markets/regulation/mar-disclosures.html
MAR Disclaimer

Conflicts of Interest statement

Glossary of definitions

Historic Trade ideas log
Where communicated in Singapore, this communication may be deemed an advertisement. This advertisement has not been reviewed by the Monetary Authority of Singapore.

---
Note that the text above is subject to the disclaimer(s) accessible if you
Click Here