EONIA under the old methodology will cease to be published on 30 September, then on 2 October at 8:00 am CET ESTR will be published for first time, with revised EONIA (fixed as ESTR + 8.5 bps) published at 9:15 am CET.

This change in timings to publish fixings T+1 under ESTR rather than T0 under old EONIA methodology may present some operational challenges initially for market participants, but as we outlined in our Three's a crowd article back in August, the disruption now will be limited given EONIA under its revised methodology will continue to be published.

Some key points to be aware of in the coming weeks:

No EONIA rate will be published on 1 October, fixings will reference previous day's rate (see table from EMMI below).
Calculations referencing EONIA from 2 October must be made following publication of rate at 9:15 am CET if they need to use latest fixing, meaning settlement period eg for collateral payments may be shorter than previously
LCH has announced that they will offer clearing of ESTR swaps from 21 October (with Eurex following on 18 Nov). Expect brokers to start quoting ESTR flat v FRA & EURIBOR from 21 October in line with this, but to continue to discount off (revised) EONIA for now. we also expect venues will be offering ESTR products near the end of 2019.
Newly drafted CSAs will start to reference ESTR flat not EONIA from 2 Oct, but move of legacy CSAs to ESTR flat particularly in the bi-lat market is a bigger question (see below).
Legacy contracts referencing EONIA do not require immediate amendment, all references to EONIA will mean revised EONIA from 2 Oct. Further down the line (gradually, but at the latest ahead of EONIA discontinuation on 3 Jan 2022) contracts will require addition of fallback or rate replacement language to ESTR + spread. We hope ISDA will add this to the book of work.
For more information on the switch to ESTR see EMMI's press release and our article from August. The timeline for changes next week as set out by EMMI is included below: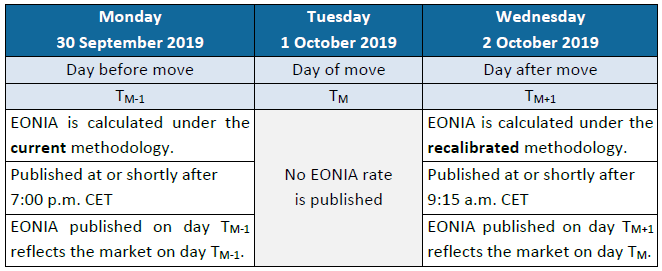 The move to flat could be bumpy

Latest expectation is that in Q2 2020 CCPs will switch discounting curves from EONIA to ESTR flat. Although final timing of this is not yet published, it will be driven centrally by the CCPs and result in a change in collateral valuations facing clearing houses.

What is less clear is what will then happen in the bi-lateral market. So far there has been limited discussion around this in the industry but a consensus on timing and methodology for valuation changes is needed. Ideally the market will follow the CCPs' lead, but there are risks that there will be fragmentation here. Counterparties will move or not depending upon their positions.

A protocol could be a way forward, however it would be voluntary and there is no guarantee that all market participants would adhere to it. Similar concerns within the UK market.

But these are concerns for next year, for next week discounting will continue off recalibrated EONIA with the introduction of ESTR, for both cleared and non-cleared.

Phil Lloyd, NWM Sales

Please click here to find all of NatWest Markets' Strategy and Sales commentary/ideas.

---
This is Non-Independent Research, as defined by the Financial Conduct Authority. This material should be regarded as a marketing communication and may have been produced in conjunction with the NatWest Markets Plc trading desks that trade as principal in the instruments mentioned herein. All data is accurate as of the report date, unless otherwise specified.
This communication has been prepared by NatWest Markets Plc, and should be regarded as a Marketing Communication, for which the relevant competent authority is the UK Financial Conduct Authority. Please follow the link for the following information https://www.natwestmarkets.com/natwest-markets/regulation/mar-disclosures.html
Where communicated in Singapore, this communication may be deemed an advertisement. This advertisement has not been reviewed by the Monetary Authority of Singapore.
Conflicts of Interest statement
---
Note that the text above is subject to the disclaimer(s) accessible if you
Click Here