Year Ahead 2020 | The end of monetary dominance

Click on the pdf link above for our full Year Ahead 2020
To hear us discuss our key themes and trades, please listen to our NWM Year Ahead 2020 podcast here

Normally, the first question we get in a Year Ahead meeting is 'where do you differ from consensus'? In 2020, the answer is in quite few places. We are less bearish on Europe, enough to think 10y bund yields may just edge above zero. We are less optimistic on the US, especially when you consider the implications of a tight Presidential election – the US will seem a little less exceptional in 2020. We agree with investors that UK markets will have a good start to the year, but we are more concerned about what happens once negotiations around the new trade deal get going. Finally, we are a little more constructive on emerging markets, BTPs and inflation.
Our title for this year is 'The End of Monetary Dominance'. After a year when central banks lifted all boats, this may seem a stretch. But central bank ammunition is getting scarce. Either way, central banks have had little success in generating inflation and perhaps too much success in distorting asset markets. Pressures are growing for a new policy framework. More fiscal policy is needed.
The front line of the fiscal story in 2020 will be Germany. Investors remain sceptical they will pull the trigger on a large stimulus. We think they will. If we are right, a floor should be set on German growth next year. The underlying message is even more important. It will signal the era of monetary dominance in Europe may finally be coming to an end.

2020 snapshot: Your essential guide to next year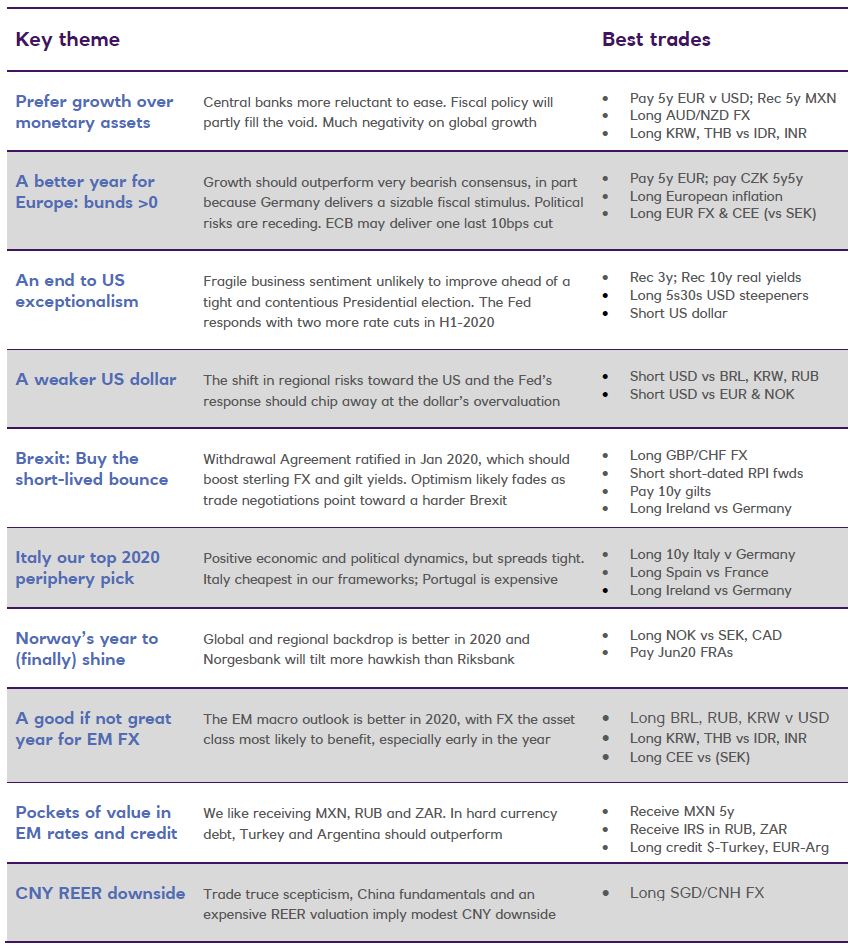 Please click here to find all of NatWest Markets' Strategy and Sales commentary/ideas.
You can also find out more about our Rates electronic offering and credentials here
---
This is Non-Independent Research, as defined by the Financial Conduct Authority. Not intended for Retail Client distribution. This material should be regarded as a marketing communication and may have been produced in conjunction with the NatWest Markets Plc trading desks that trade as principal in the instruments mentioned herein. All data is accurate as of the report date, unless otherwise specified.
This communication has been prepared by NatWest Markets Plc, and should be regarded as a Marketing Communication, for which the relevant competent authority is the UK Financial Conduct Authority.
Please follow the link for the following information https://www.natwestmarkets.com/natwest-markets/regulation/mar-disclosures.html:
MAR Disclaimer

Conflicts of Interest statement

Glossary of definitions

Historic Trade ideas log
---
Note that the text above is subject to the disclaimer(s) accessible if you
Click Here